About…
On my first day of Pandeiro lessons with Ze Mauricio, we talked about how much I enjoyed Brazilian Music since I was 12 years old… I accidentally stumbled upon three LP Records in my aunt's room one summer day. One was, "ASTRUD GILBERTO," and the other two were, "SERGIO MENDEZ," and "SERGIO MENDEZ and the Brazil '66." I loved what I was listening to and by the end of that summer, I was singing phonetically, "MAS QUE NADA", "A RA (The FROG)", "VOCE ABUSOU", "PAIS TROPICAL", "BERIMBAU", and "O PATO!". I had no idea what the songs and their lyric meant, but I sang them all like Portuguese was my native tongue. Actually, it didn't matter if I didn't understand any of the words… it was the rhythm and the "SOUND" that got me hooked with what I would later learn as an adult, was the sound of BOSSA NOVA. Fast forward 40 years to 2011… After several visits to Brazil and learning Portuguese, I continued singing all the old songs I used to sing and felt even better knowing what I was singing about! "O PATO," literally translates to, THE DUCK! (This would be the second song in our BRINOY Music compilation entitled, "HOY BADING").
"I told Ze how much Filipinos enjoy Brazilian music and for decades singers have recorded several Bossa Nova inspired music called, "BRAZILIPINAS Music." I like the music but I was missing that authentic BRAZILIAN SOUND… An idea was born… why not record songs using original Brazilian Songs translated into TAGALOG with Brazilian Musicians recording the soundtrack and for Filipino singers to sing the Tagalog version?"
The next week, Ze and I discussed the idea more during my second Pandeiro lesson and decided we have to do something about our great idea of bringing our cultures together through music! After my Pandeiro lesson that day, I went home and wrote the translation for Rosa Passos', "DUNAS" for our very first Brinoy Song, "BALIKBAYAN Song." After a week, we put my Pandeiro lessons on hold and found ourselves at the 9 Lives Studio with Nicola Stemmer (Sound Engineer),Carlinhos Almeida (guitarist), Ze Mauricio (Percussionist/Music Director) and me, singing the demo! For the last two months, Ze, Carlinhos and I have recorded 9 songs with Nicola manning the recording. Ze's fresh arrangements for the original Brazilian songs have given our project that distinct sound I was missing from BRAZILIPINAS Music… ours was truly BRAZILIAN with lyrics in TAGALOG! A Brazilian-Filipino sound was born with our collaboration!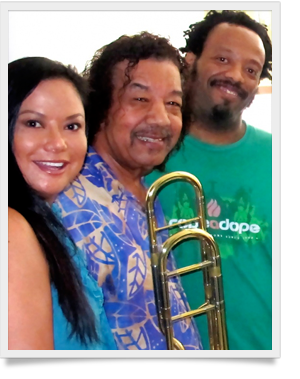 Why BRINOY?
I thought of the term because it is whimsical and current. Brinoy songs talk about Pinoy culture… it is real, sometimes sad but often times humorous, just like the Filipino People… we find humor even in the saddest moments of our lives. This is BRINOY Music… we can poke fun at ourselves and laugh at everything life offers us. The lyric is very PINOY with a BRAZILIAN beat!
Where we are now…
We just received a GO signal from the great Brazilian writer/singer, ROSA PASSOS after she heard her song, DUNAS in Tagalog. We sent her a CD copy of, BALIKBAYAN Song. Ze is going to Brazil end of April to meet with Ms. Passos for her to sign the permit. Polishing, re-mixing and mastering will take place next week and we are scheduled to record with some 50-80 bateria (percussion section) members of Ze Mauricio's Escola de Samba in Rio de Janeiro first week of May! This recording is for the song, BIGLANG YAMAN which Ze wanted as a BATUCADA. It will be different from the other songs with the Bossa Nova and Pagode beat because we want to show different possibilities with Brinoy Music.
I am very excited with this project—I'm blessed to be doing something I truly enjoy!
God is good!
Big hug,
Tita Bessie